Friday the 13th: Killer Puzzle was announced last year by the makers of the award-winning "Bloodies Game Ever," Slayaway Camp.  The completed game was quietly rolled out to the Apple App Store in the U.S. last weekend, but Blue Wizard Digital has since announced a final release date across other platforms later this year.
"The United States is getting early access to the game," said Blue Wizard founder Jason Kapalka, "but players can rest assured it will release soon everywhere else."
Technically, only U.S. iPhone users are getting early access to the game.  The rest of us will have to wait until Friday, April 13 to play the new puzzler.  With the global release, Friday the 13th: Killer Puzzle will be available on iOS, Android and Steam across all territories.
In Friday the 13th: Killer Puzzle players go behind the mask of Jason Voorhees as he stalks and murders the campers at Crystal Lake and beyond.
Players control Jason by sliding him around an isometric puzzle level to attack his victims, either directly with a huge variety of unlockable weapons, or indirectly, by frightening them into environmental hazards like campfires, bear traps, and woodchippers. Grisly reflex-based "Kill Scenes" punctuate the puzzling as you progress through multiple episodes, from classic campgrounds to more exotic locations such as Manhattan, abandoned amusement parks, supermax prisons, beach resorts, outer space and even, through a time-travel twist, Victorian London, and other eras.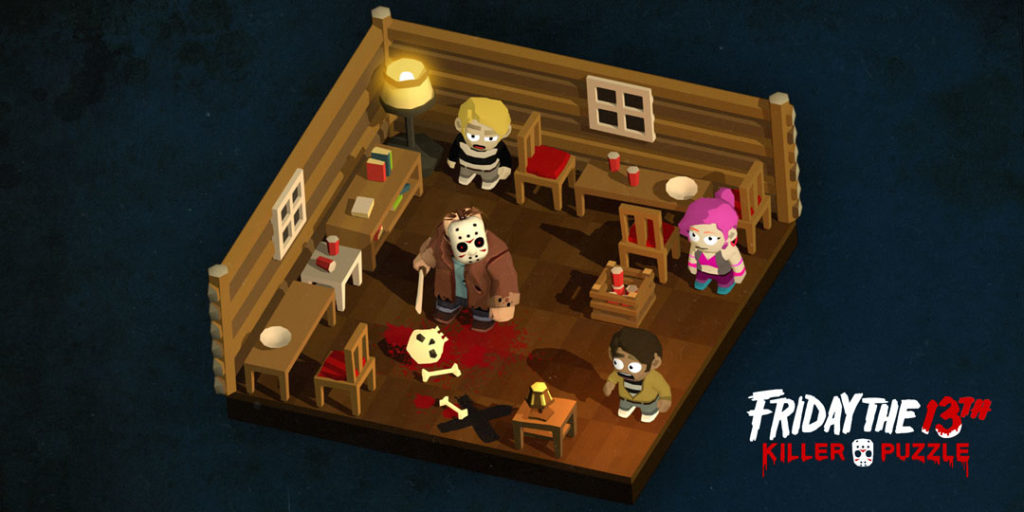 When it's released, Friday the 13th: Killer Puzzle will be a "Free to Slay" title with optional purchases.  "We're sensitive to the concerns a lot of players have with free to play titles," said Kapalka. "We're definitely trying to avoid the more obnoxious money-grabs. They've promised to send Jason after us if it sucks."