Valentine's Day is just around the corner.  This year, instead of getting that special person in your life flowers, or a cutesy card and chocolates, let them know you love them to death with these less traditional, more spooky Valentine's Day gifts.
Fatally Yours Gourmet Chocolate Box
The Fatally Yours Gourmet Chocolate Box is a Valentine's Day gift I discovered a few years back thanks to The Spooky Vegan.  And while its a gift that will set you back a bit financially, there is no denying these chocolates are a work of art and definitely don't fit the traditional Valentine's Day chocolate fare.  Made by Vegan Treats this annual Valentine's Day release comes packaged in a black heart with red-embossed "Fatally Yours" Ouija board artwork and is filled with chocolates that are all handmade, vegan, and finished in gold leaf.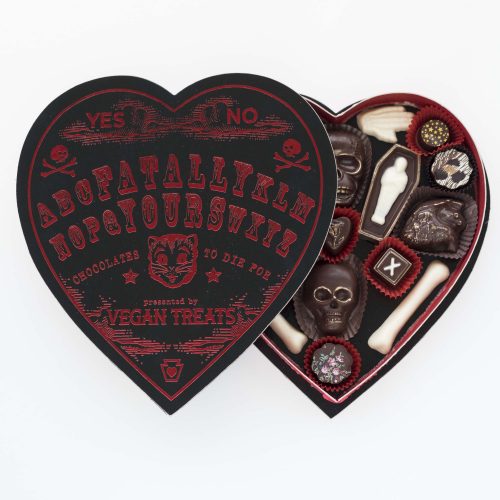 In total, you will receive 19 pieces of premium, handmade and abysmally dark chocolates including:
Blood-red velvet filled Swiss chocolate
Speculoos chunk filled anatomically correct hearts
Peanut butter cup coffins
White chocolate humerus bones
Caramel cup
Black raspberry-filled Swiss chocolate
White chocolate Skeletal hands
Passion-less fruit with fragrant Madagascar vanilla bean
Jumbo cookie dough skull
Hazelnut praline skull
Custom Vegan Treats Hazelnut Chocolate Planchette
There are two versions of the box, both of which are limited edition and each comes with an array of different goodies depending on which on you order.  You can choose from the Limited Edition Fatally Yours Gourmet Chocolate Box, which will set you back $94.95 or the Ultimate Limited Edition Fatally Yours Gourmet Chocolate Box, which will set you back $124.95
Spooky Valentine's Day Cards
Let's face it, when you head down to your local store to pick up a Valentine's Day card for that special someone, it likely isn't going to capture the spooky undertones of your relationship or share your love of horror.  Thankfully the internet has remedied this and gives you access to tons of artists and creators who mix spooky with sweet.  One of those artists, who inspired this section of the post is Kimberly Gomez, AKA Spooksieboo.
I first discovered Spooksieboo at Scare LA 2017, her artwork is the perfect mix of creepy and cute.  For Valentine's Day 2018 she has created five new original cards featuring some of your favorite cartoon characters spooky-fied, including Snoopy, Pikachu, Poppy and Branch from DreamWorks' Trolls, Vanelope and Ralph from Wreck-It Ralph, and my favorite, Jack and Sally as cats…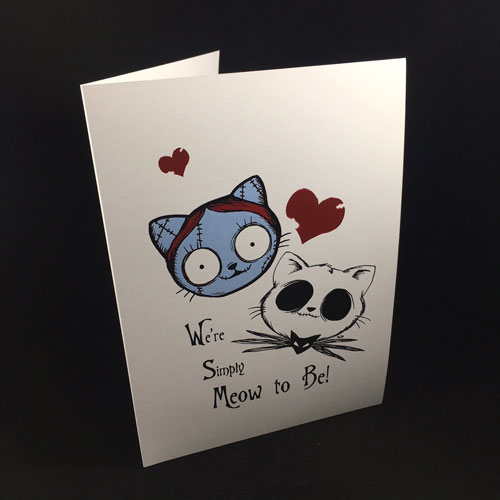 These cards can be purchased online through the Spooksieboo website individually for $5.99 or as a bundle with all five designs for $19.99.
A quick search online and you'll find a number of artists making spooky Valentine's, most of which are being sold on Etsy.  Here are some of the favorites I came across during my search:
Horror Valentine's Day Cards from Daemon237
UK artist Daemon237's Valentine's Day cards caught my eye because of the incredibly detailed and vibrant artwork.  Getting away from the mix of cute and creepy, the artwork is pure horror in all of its glory but still manages to tell someone you think they're special.   There are seven cards in total, which can be purchased individually for $3.81 or as a set for $22.  Below are two of my favorites, but you can view and purchase the complete set on the Daemon237 Etsy shop.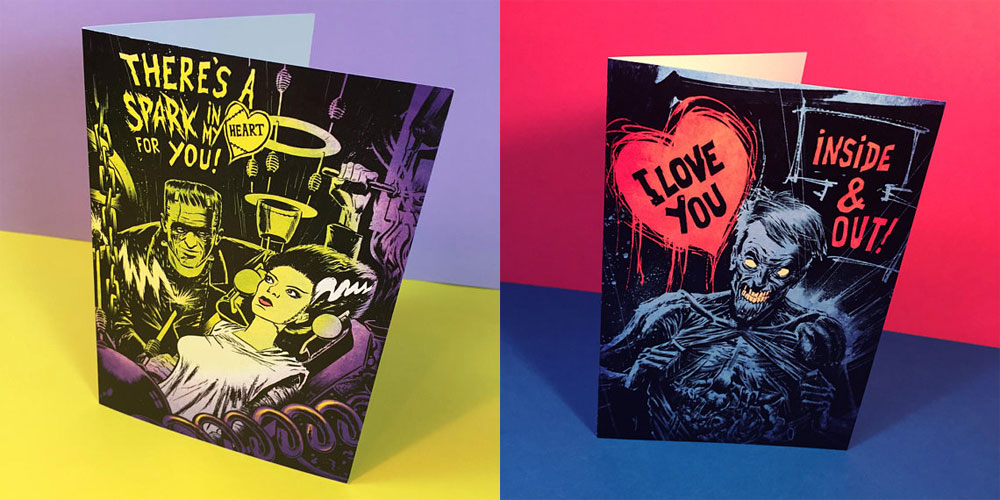 John Carpenter's The Thing Inspired Valentine
Etsy shop Ghoulhish featured a number of horror-themed Valentine's cards featuring characters such as Leatherface, Pennywise, Pepper from American Horror Story, and even Godzilla, but one of my favorites was the one below inspired by John Carpenter's 1982 classic, The Thing.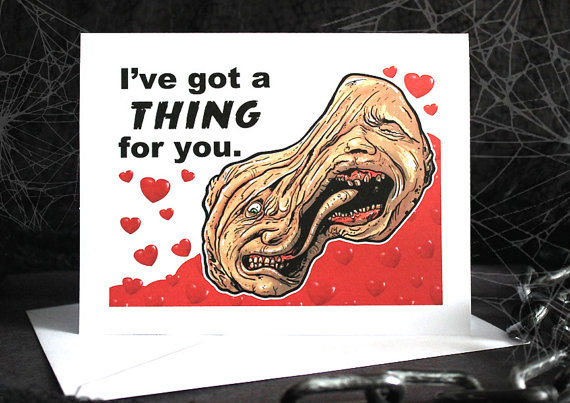 Creature from the Black Lagoon Valentine's Day Card
If that special someone is a fan of Universals Monsters, then you might be interested in this card from CraftyKByKirsty.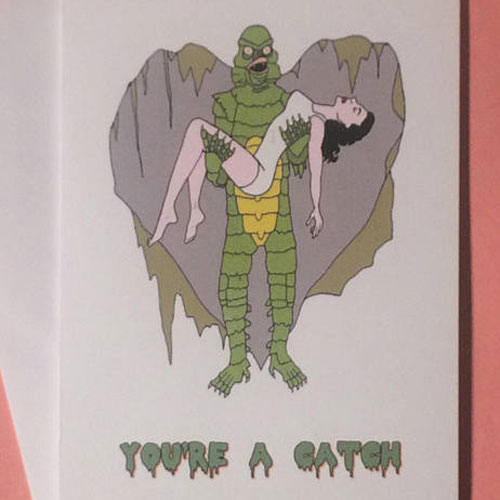 Cute Freddy Krueger Valentine
Freddy Krueger seems like a hard character to make cute, but somehow LittleSpookyStudio pulled it off with this Valentine's Day card.  What makes this card extra creepy in my opinion is that the character artwork reminds me of the cartoon character Cailou for some reason and if you're familiar with Caillou, you know just how terrifying that is.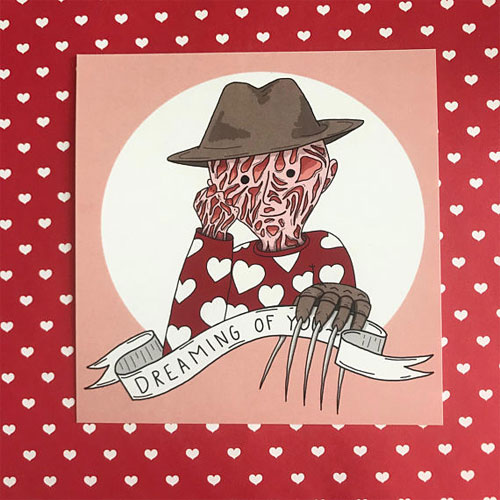 Bath Bombs
Bath Bombs seem to be all the rage these days and one creator who seems to have cornered the horror bath bomb market is The Mad Bombers.  Just in time for Valentine's Day the shop is stocking some new items to give that special someone.  The first is a box of conversation heart bombs that say, "STFU," "Drop Dead," "Plz Die," "Go Away," and "Eww."  The other is bleeding heart that looks like an actual human heart and turns the bath blood red.  According to their Instagram account, both will be available in their Etsy shop tomorrow.  You can see each of the mentioned bath bombs below.  Want to send someone a kiss?  You might also be interested in their Zombitch Blue Slushy & Lime Margarita scented Radioactive Green Stitched Lips bath bomb.
 A Spoopy Piece of Art
I've discovered a lot of great artists at various events and cons over the years and while they don't all necessarily carry Valentine's Day specific artwork, they do have pieces that show love and affection between two people in a creepy and fun way.  If your significant other is a fan of art, I highly recommend some of the following artists.
Oscar Navarro AKA The Art of Sketch
I've come across Oscar's work at a number of events and each time, I have to force myself not to blow all my spending money on his art.  His unique style spans themes of Halloween and Horror, while also borrowing themes from Mexican culture and Dia De Los Muertos.  What makes Oscars work perfect for Valentine's Day, is that many of his pieces feature a couples element, like in the piece below that tells that special someone you care.  You can check out all of Oscar's work on The Art of Sketch website.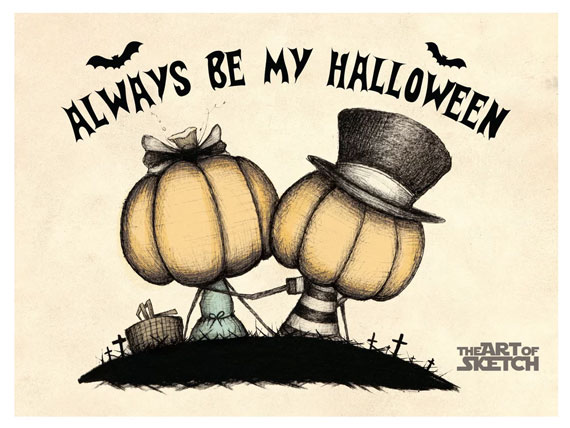 Michelle Prebich AKA Bat In Your Belfry
Michelle Prebich is another artist whose work I have grown to love after seeing it time and again at events and conventions.  She created the artwork for last year's ScareLA t-shirts, submitted a piece for last year's Slashback Video exhibit at The Mystic Museum and creates dark, beautiful pieces of art inspired by themes of horror, sci-fi, music, and more.  And while only a handful of her pieces feature the theme of love, one way to this monster's heart would be to receive the piece below featuring Frankenstein's Monster and his bride.  You can view and purchase this piece and the rest of her artwork on the Bat In Your Belfry Etsy shop.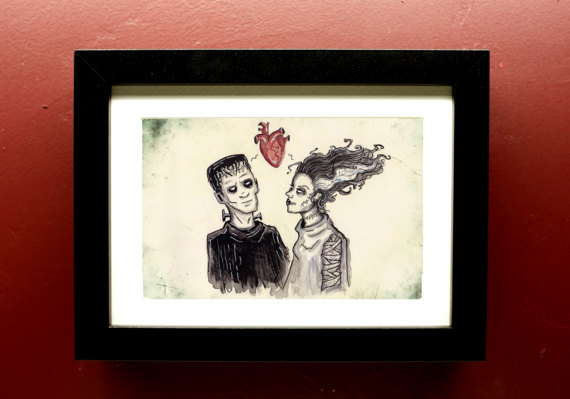 Ghoulish Bunny Studios
You might recall the name Ghoulish Bunny Studios from the series of Limited Edition Horror Bunny prints that I shared last year, where artist Diana Levin released a series of pieces featuring five bunnies depicted as horror icons like Chucky, Pennywise and Leatherface.  Diana's art is unique in that it takes on a number of different styles depending on the piece she is making and while some of it takes on a cute element, others are much darker and sinister looking. Like Bat In Your Belfy, Ghoulish Bunny Studios doesn't have a ton of artwork that fits the Valentine's Day bill, but the piece named Bride and Franky Voodoo Dolls might be the way to the special someone's heart.  Check out this and all of the rest of her work on the Ghoulish Bunny Studios website.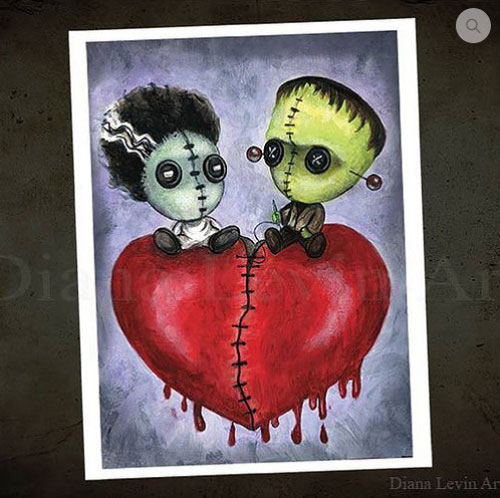 There's still a couple of weeks until Valentine's Day so hopefully, if you were stuck on what to get your special boil or ghoul this post has helped inspire you to buy something unique for this year's Valentine's Day.